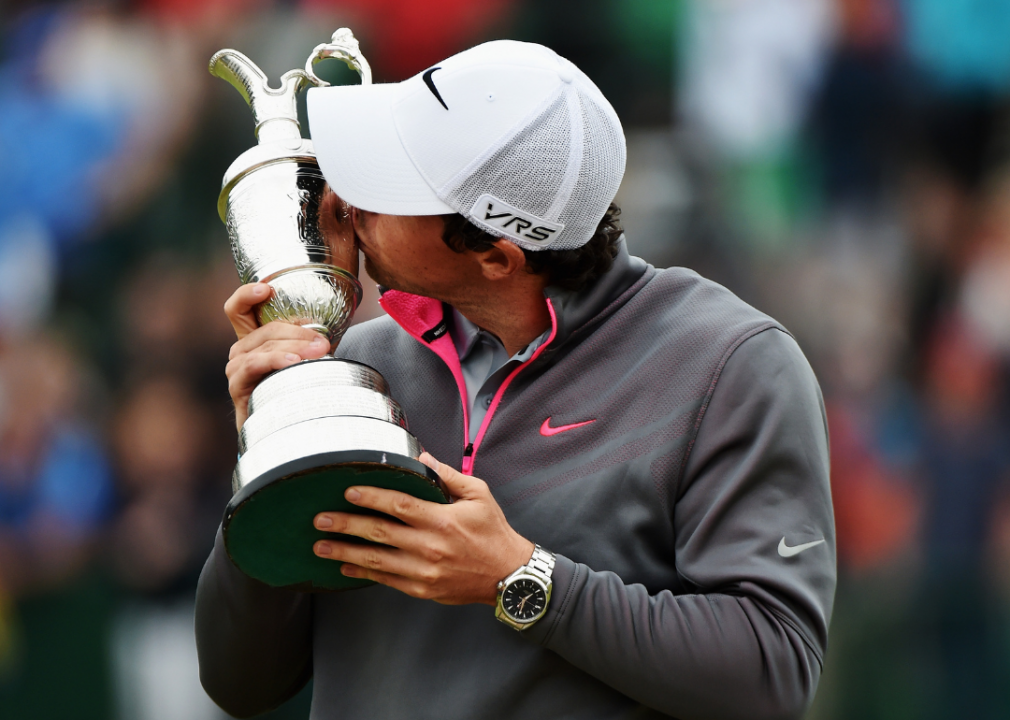 David Cannon//R&A via Getty Images
Everyone loves an underdog. Underdog stories inspire tales of greatness, heroics, and some of the best—and worst—sports gambling losses of all time. With underdogs come long sports-betting odds and with long sports betting odds come massive wins with heartwarming stories and some massive losses that lead to real heartache. Use Bet 10 Win 200 to bet on sports.
There are hundreds of tall tales around the world of sports gambling. Everyone knows someone who hit it big or just missed out and has long-winded stories of "what ifs." But this isn't about mythology.
BestOdds.com culled the legends and found 10 of the biggest longshot wins in sports betting history. To keep things simple and clear away the clutter, researchers focused on major news outlets to find inspiring, exhilarating, and breathtaking sports gambling stories that will leave you awestruck.
The next time you come across a longshot, remember these unbelievable stories. If you hit that parlay just right, you'll have a chance of being added to this prestigious list of gamblers who simply defied the odds, and logic, for the greatest wins in sports betting history.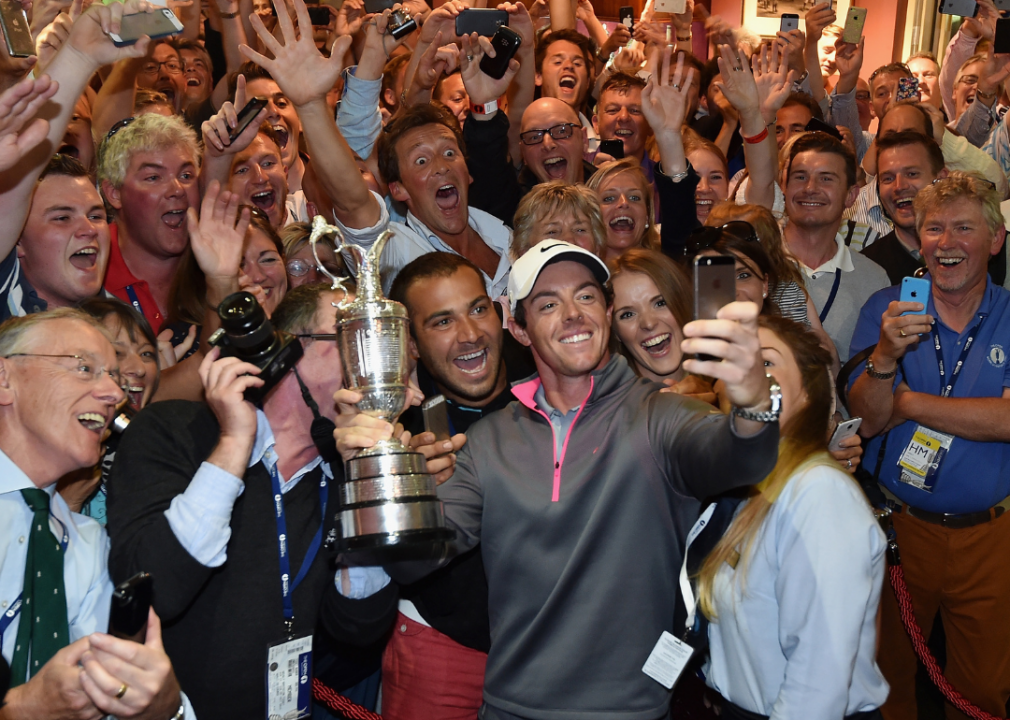 David Cannon//R&A via Getty Images
Golfer's dad bets big on son's success
As every dad understands, belief in your son's abilities knows no bounds. For golf pro Rory McIlroy, his father took things to a whole other level. In 2004, Gerry McIlroy placed a bet on his son that within 10 years, he would win the Open Championship, otherwise known as the British Open. The bet, in British pounds, was only $557—but the odds were +50,000. Bear in mind, the young McIlroy was only 15 at the time, and the oddsmakers were more than happy to take the bet.
Cut to 10 years later—McIlroy wound up winning the British Open by two strokes in 2014, netting his father around $342,000.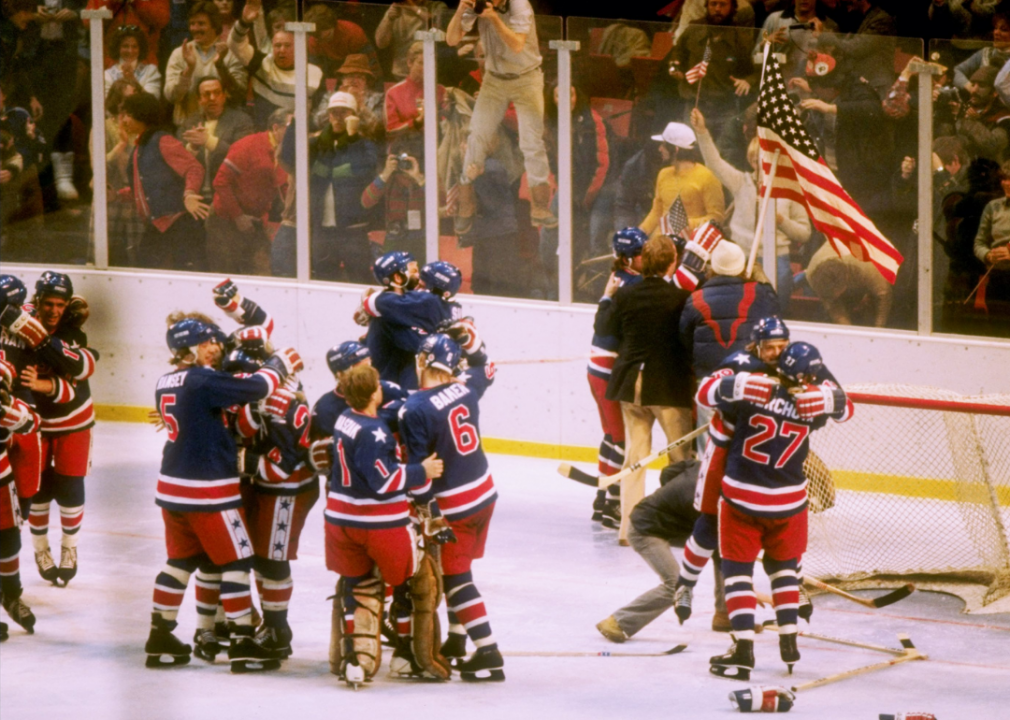 Steve Powell // Getty Images
US hockey team stuns the Soviet Union
Coming into the 1980 Winter Olympics in Lake Placid, New York, the Soviet Union's hockey team had won the gold medal in four straight Olympic Games. It was the overwhelming favorite again, but Team USA had the home ice advantage—despite the +100,000 odds the bookmakers gave them to win. In what's now known as the "Miracle on Ice," the younger U.S. hockey players stunned the Soviets by winning 4-3 and giving sports announcer Al Michaels the call of a lifetime when he asked TV audiences, "Do you believe in miracles?"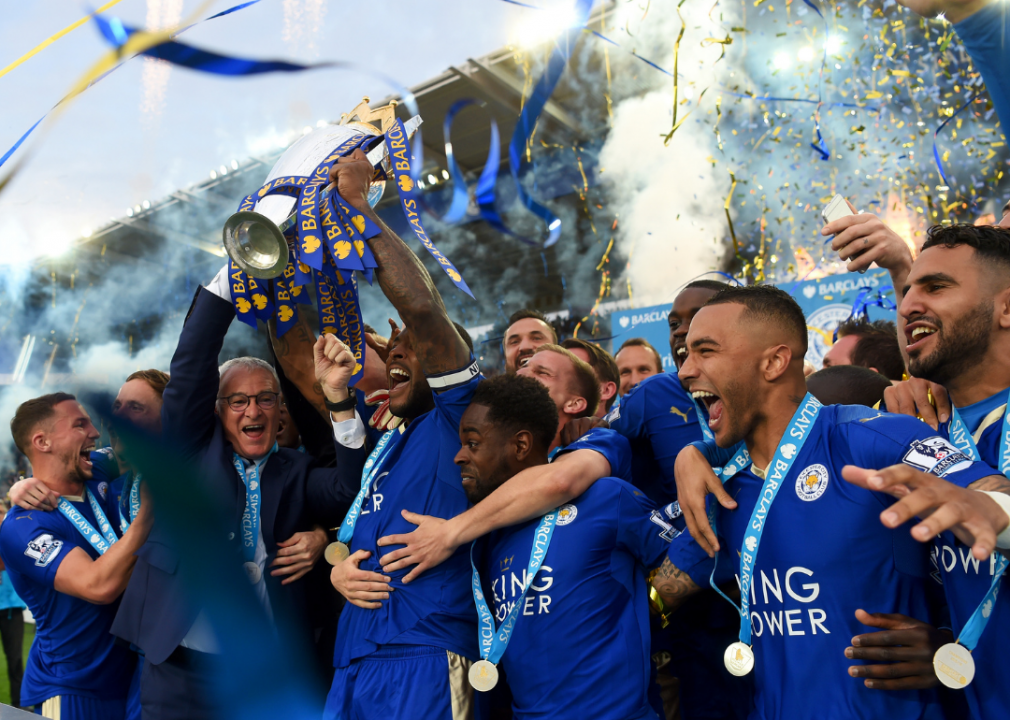 Michael Regan // Getty Images
Leicester City wins the Premier League
To a non-football fan, it can be hard to explain how big of an upset it was when England's Leicester City won the Premier League in the 2015–16 season.
First, the League was founded in 1888, becoming the Premier League in 1992. The Leicester City team's history included one second-place finish in 1929 and a third-place finish in 1928—and that's it. Coming into the 2015–16 season, the team was a +500,000 longshot to come out on top and its payroll was a meager $100 million compared to Manchester City at $578 million. But despite it all, the team found magic, pulled off the unthinkable, and became one of the greatest underdog stories in sports history.
The biggest winner from that day was a medical secretary named Mandy Clarke, whom a man jokingly handed a 10-pound ($14) ticket betting on Leicester's win. The +500,000 odds netted Clarke a 50,000-pound ($72,480) payout.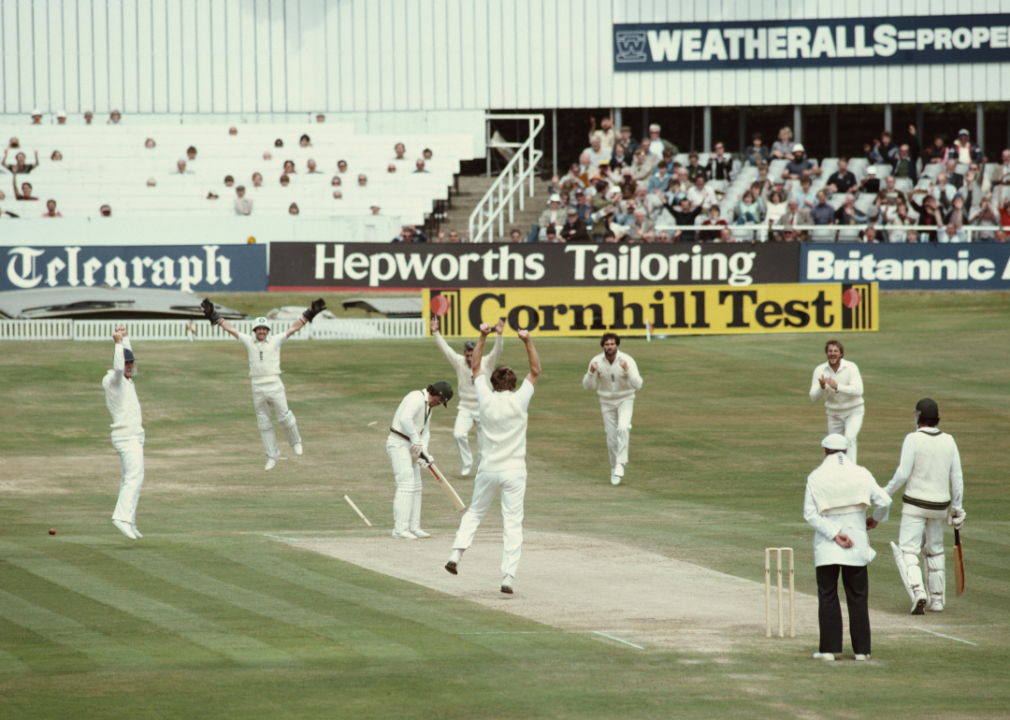 Photo Murrell/ Allsport // Getty Images
Only the bettors know if this 1981 cricket match was fixed
In a 1981 cricket match between England and Australia, the English team was so far down its chances of coming back to win were +50,000 according to oddsmakers. Seeing the crazy odds, two of the Australian players, Dennis Lillee and Rod Marsh, placed $14 and $7 bets, respectively, against their own team to lose.
The English team shocked the Australians with one of the greatest comebacks of all time, in the meantime netting the two Aussies $10,446. Questions swirled as to whether the Aussies did anything to help their chances of losing the match while winning the bet; to this day, they vehemently deny doing anything wrong and said the bet was made almost as a joke.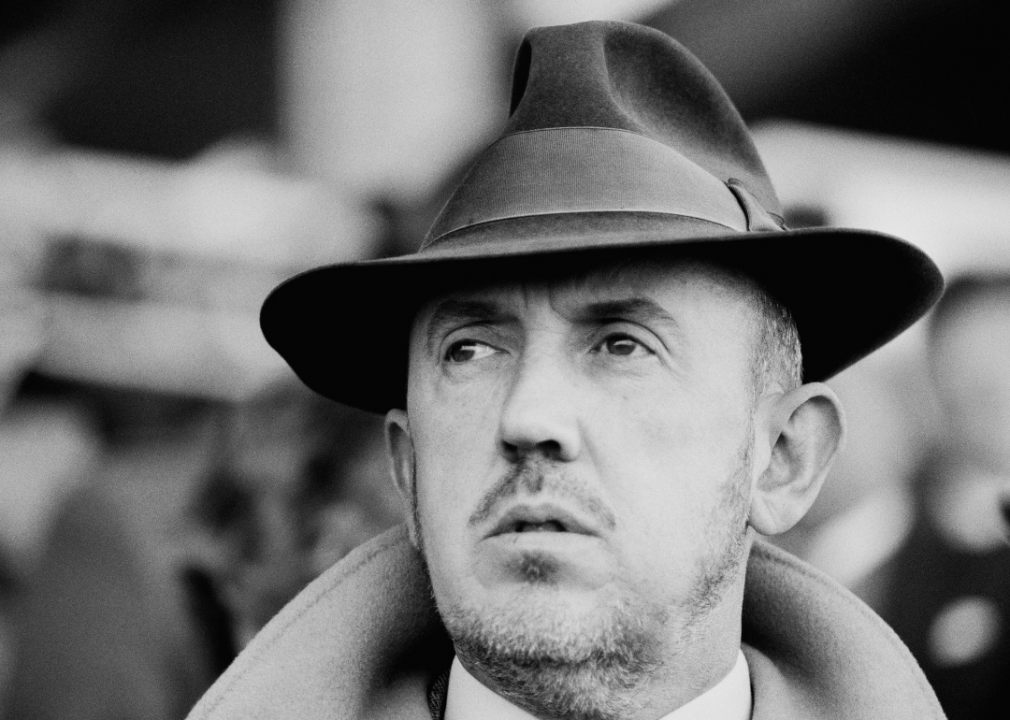 Daily Express/Hulton Archive // Getty Images
A great betting coup hinges on a phone call
Barney Curley was one of the most colorful figures in the horse racing world and also one of the biggest gamblers. In 1975, he pulled off one of the greatest betting coups in history at a race in Bellewstown, Ireland, using a horse named Yellow Sam that had +1,900 odds of winning. Curley chose the track because there were only two phone lines for the insiders to use to communicate with the oddsmakers. Curley knew that he could tie up the phone lines while strategically getting friends and family to place bets on Yellow Sam all over the country. This scheme ensured the betting odds wouldn't change because the bookmakers didn't know about the incoming bets. Curley wound up netting $427,000, equivalent to about $2.7 million today.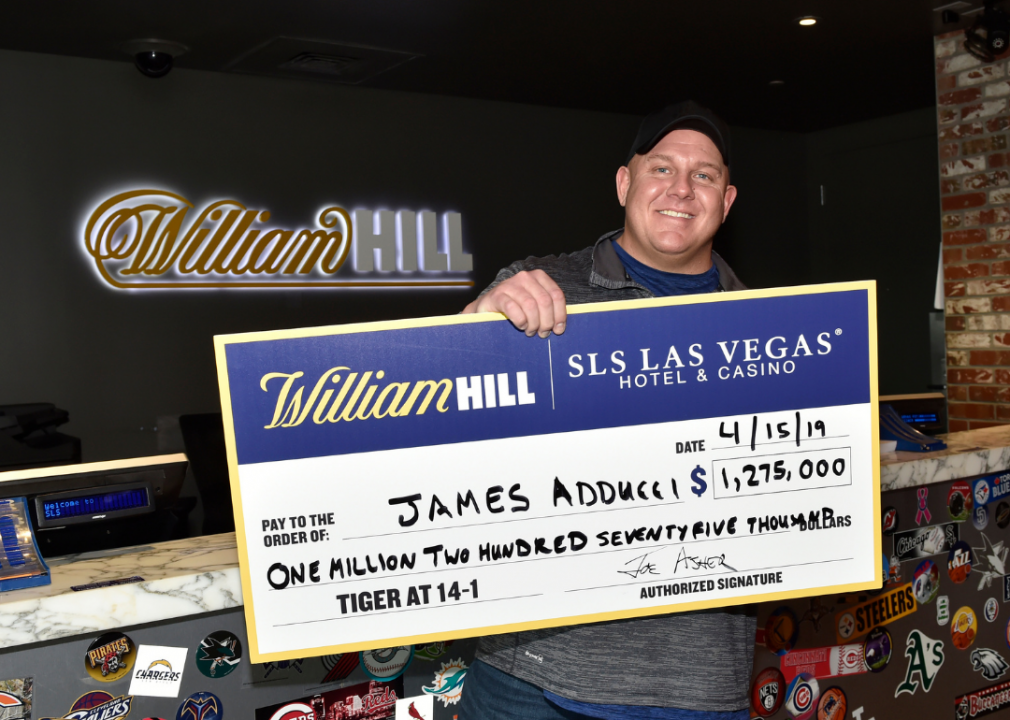 David Becker/Getty Images for William Hill US
Professional golfer hadn't lost his prowess
The last time professional golfer Tiger Woods had won a major championship was in 2008 at the U.S. Open, and he did so while playing on a broken tibia in his leg. Fast forward 11 years, and after a series of scandals, injuries, and surgeries, Woods was back at the 2019 Masters Tournament, looking for his fifth green jacket. One intuitive gambler named James Adducci never lost faith in Woods and placed an $85,000 bet on the golfing great to win the Masters again at +1,300 odds. Adducci's faith paid off: Woods won the 2019 Masters and Adducci walked away with $1.2 million.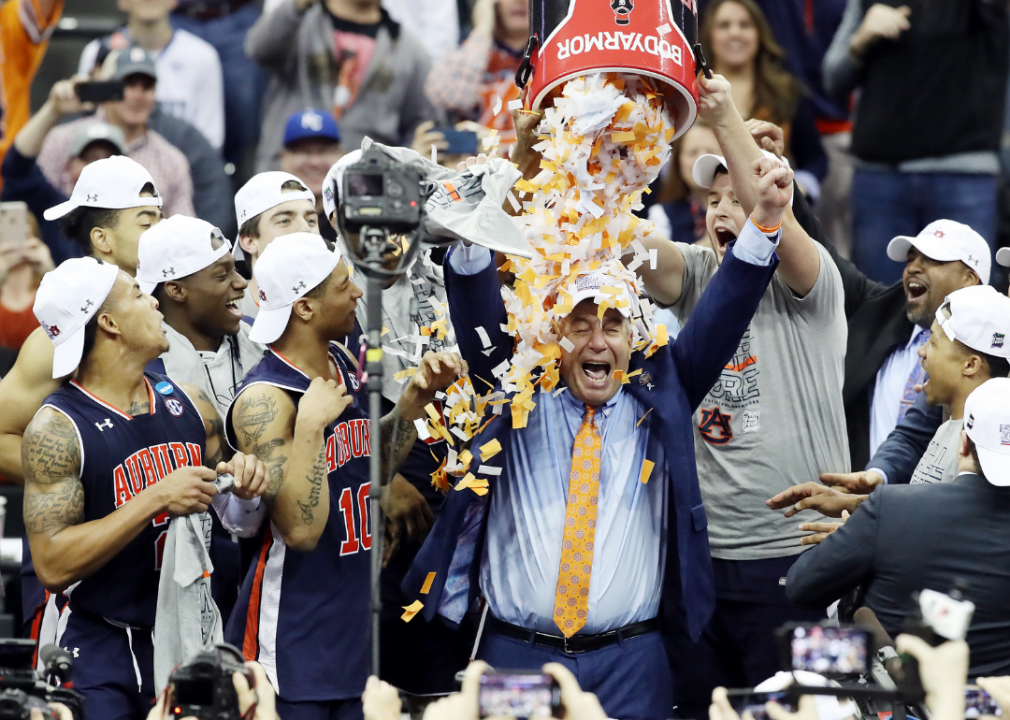 Christian Petersen // Getty Images
A 14-cent bet parlays a romantic ring
In gambling, a parlay is when you combine multiple bets together to achieve longer odds and bigger payouts… if you win. One of the wildest parlay gambling stories of all time involves a 14-cent wager on the 2019 NCAA basketball tournament. Kevin Maselli took the final 14 cents he had in his gambling account and placed a series of bets on seven games that took the odds to around +1,000,000. Because the odds were so long, Maselli ended up winning $1,345.78 off his meager wager. After he won said he was going to use the money for a ring when he proposed to his girlfriend.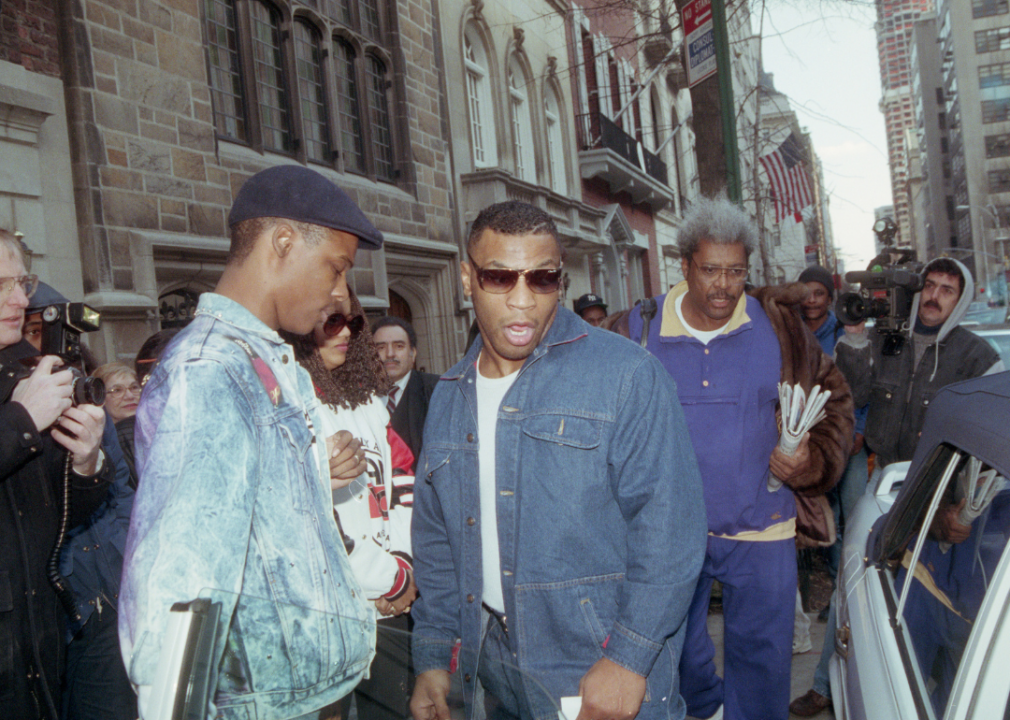 Bettmann // Getty Images
Tyson was the surest thing in Vegas… until he wasn't
The famed oddsmaker Jimmy Vaccaro was familiar with big bets. But when Mike Tyson was set to fight Buster Douglas in 1990, things got out of hand quickly. Vaccaro set the opening line in Vegas at +2,600, and a bettor put $54,000 on the fight to win $2,000. Vaccaro then upped the odds to +3,000, and someone bet $93,000 to win $3,000. The final line settled at +4,100 in favor of Mike Tyson while the best odds on Douglas to win were +3,600. Tyson wound up losing the fight, the big spenders lost handily when he was knocked out. Meanwhile, one lucky bettor who put $1,000 on Douglas took home $37,000.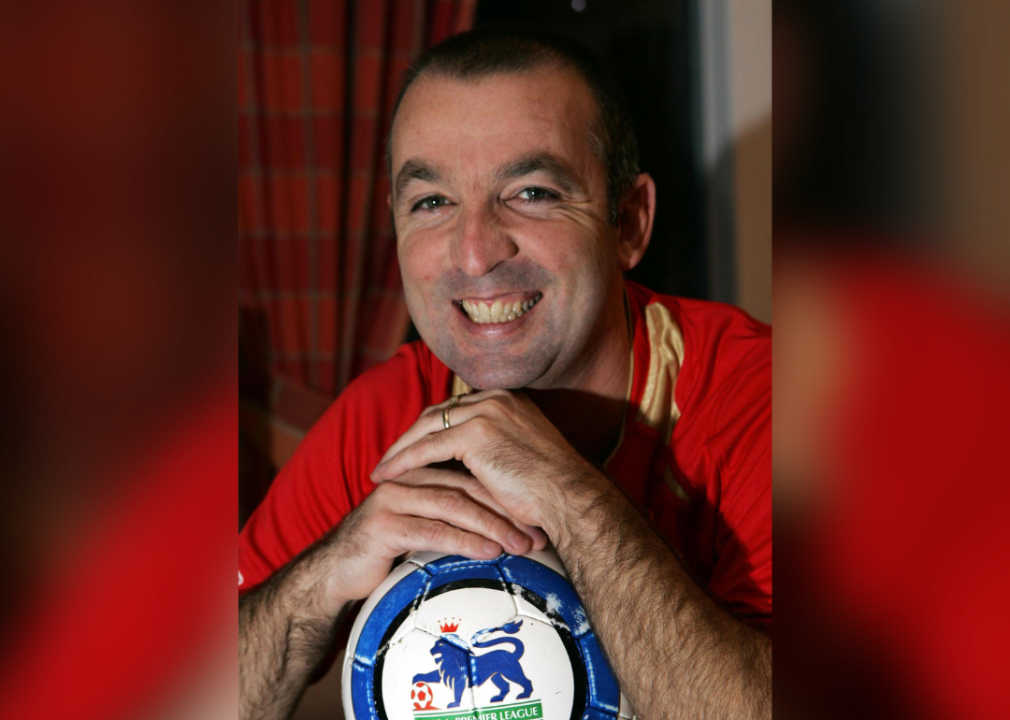 Tim Ockenden/PA Images via Getty Images
When betting on a dream really pays off
Adrian Hayward had a dream. In 2006, he dreamt that Liverpool's Xabi Alonso scored a goal from his own half. Remarkably, Hayward took that dream to the oddsmakers and placed a $278 bet at +12,400 that Alonso would score from his own half at some time during the season.
During a third-round Football Association Challenge Cup match against Luton Town, Hayward's dream became a reality as Alonso miraculously shot from over the half line to score. The dreamy bet netted Hayward nearly $35,000 and he said he was planning on using it to take his family on vacation.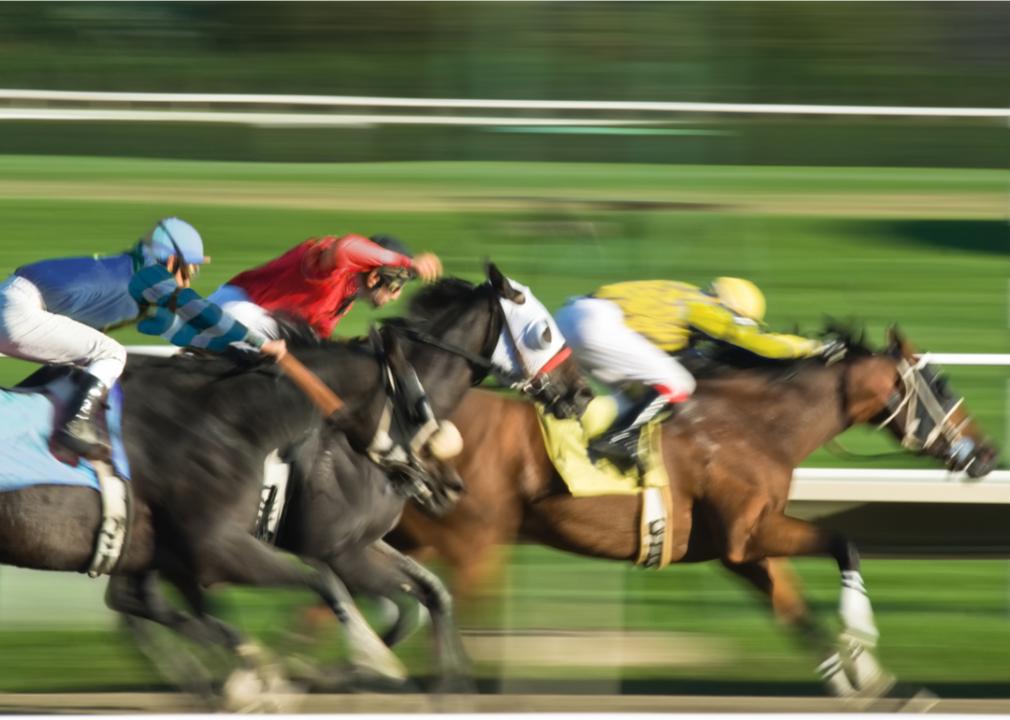 Gergo Orban // Shutterstock
A joke bet leads to joyous birthday celebration
On his 60th birthday in 2008, Fred Craggs decided to make a joke bet: 69 cents on an eight-horse parlay bet with +200,000,000 odds. The bets were placed on random races around England and included horses named A Dream Come True and Isn't That Lucky. The 69-cent bet placed at bookmaker William Hill only paid Craggs $1.39 million instead of $1.95 million because of a rule that capped winnings, but Craggs wasn't complaining as he walked home a millionaire on his birthday after all eight horses crossed the finish line in first.