March Madness Stats And Betting Trends
---
By Malcolm Darnley |
March 24, 2022 4:01 PM
Jamie reached out after the second round of the Madness and wondered what if we had all just blindly backed Underdogs on the moneyline for the 48 games played so far
So Jamie from Toronto, thanks to my friend Data_Josh, we have some answers for you.
Let's go.
Blindly Backing 'Dawgs Since 2011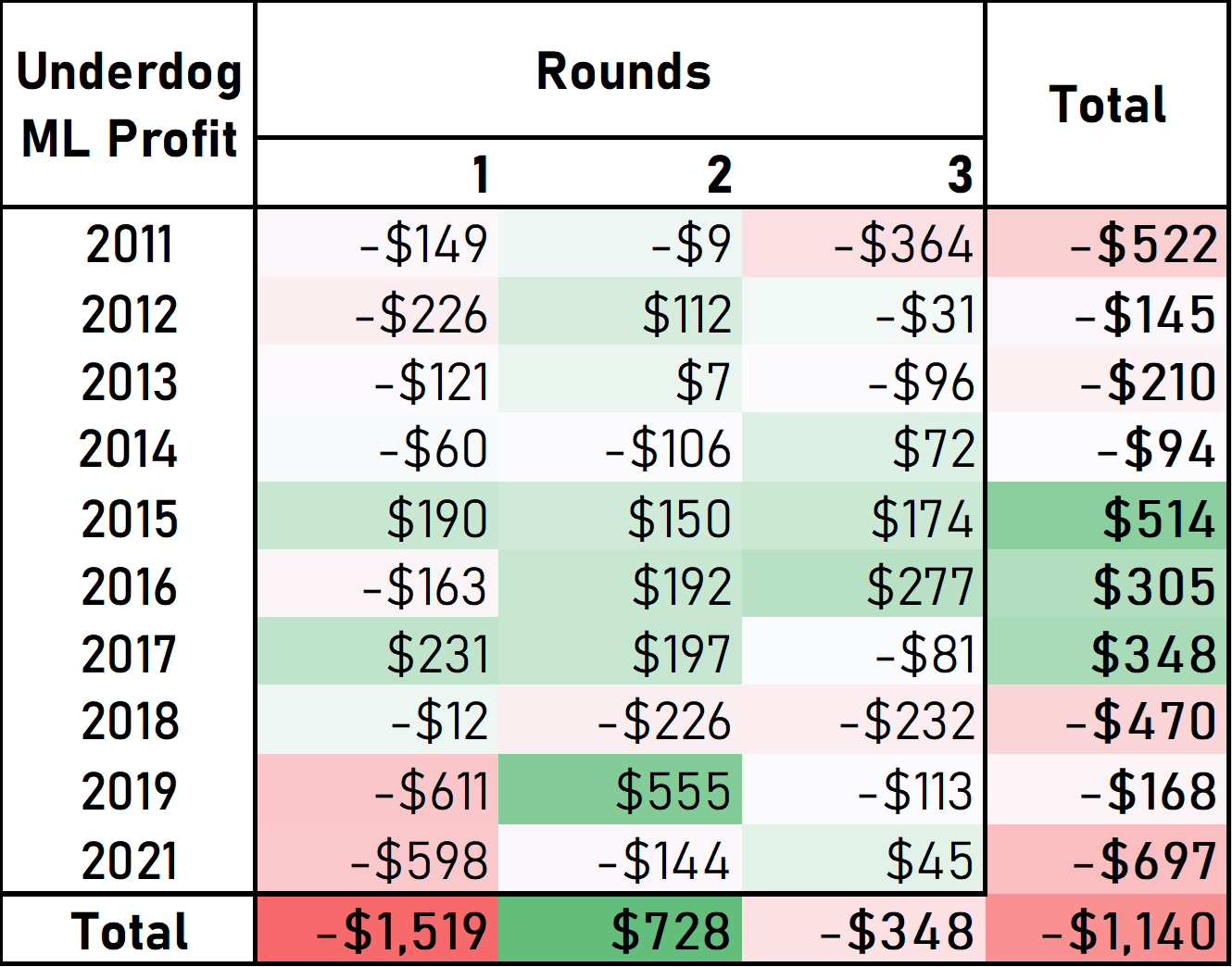 Let's start with the historical facts.
Our table above shows what would have happened if a $100 bettor had blindly backed underdogs in each of the first three rounds of the tournament, starting in 2011.
We can see that in 7 of the last 10 tournaments, this strategy would have lost us money. 2015, '16, and '17 were the only years that provided a positive return.
However, Jamie from Toronto clearly has some good mental maths skills, because this year our table looks a little bit different.
Blindly Backing 'Dawgs in 2022

Our 2022 table above shows us the Madness has been a little more volatile this year than in years past.
With a total profit of $491, our underdogs have provided a positive return for us in each of the first two rounds, albeit just a small profit in RD2.
Only once in the last 10 years has blindly betting 'Dawgs on the ML provided a positive return in all 3-rounds.
So I guess my question for Jamie from Toronto is: Are we betting on this streak to continue or are we flipping to the Chalk tonight?
---
Random or Genius?
I'm not sure if @KyleHunterPicks reads me, but I read him. Below is a tweet that caught our attention and created more work for my pal Data_Josh.

This seems like a bit of a random stat, but we were definitely curious to see if it was true. Our data sample doesn't go back to 2006, like Kyle's does, but we had Data_Josh run the numbers from the last 10 tournaments and this is what we found.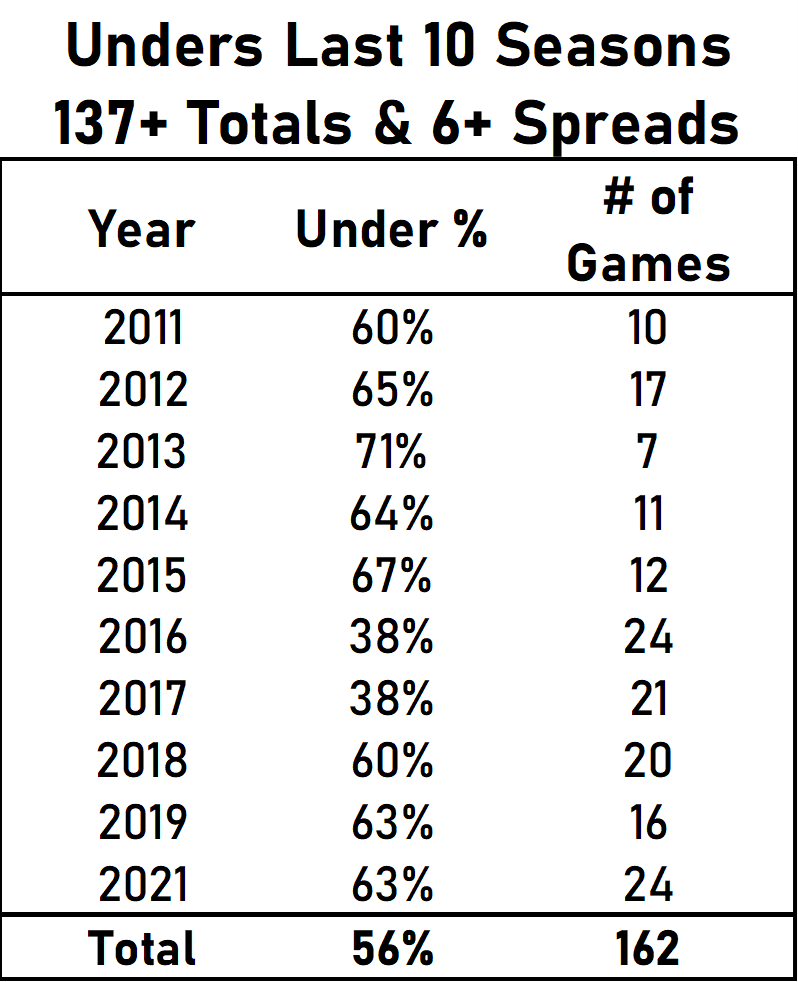 It turns out that @KyleHunterPicks is totally on to something. Although this type of scenario only happens on average 16 times a tournament, check out those winning percentages.
Twice in the last 10 tournaments this strategy failed to pay out. In the other 8 seasons, the Under was cashing in at least 60% of the time.
60% is a big number in sports betting.
How big?
Our graph above shows us that if we had taken the Under in games where: The O/U was at least +137 or higher AND there was at least a +6 point spread, we would be up almost $1200 the last 10 years.
Of course, the past is in the past, we want to know how this strategy is holding up so far in 2022.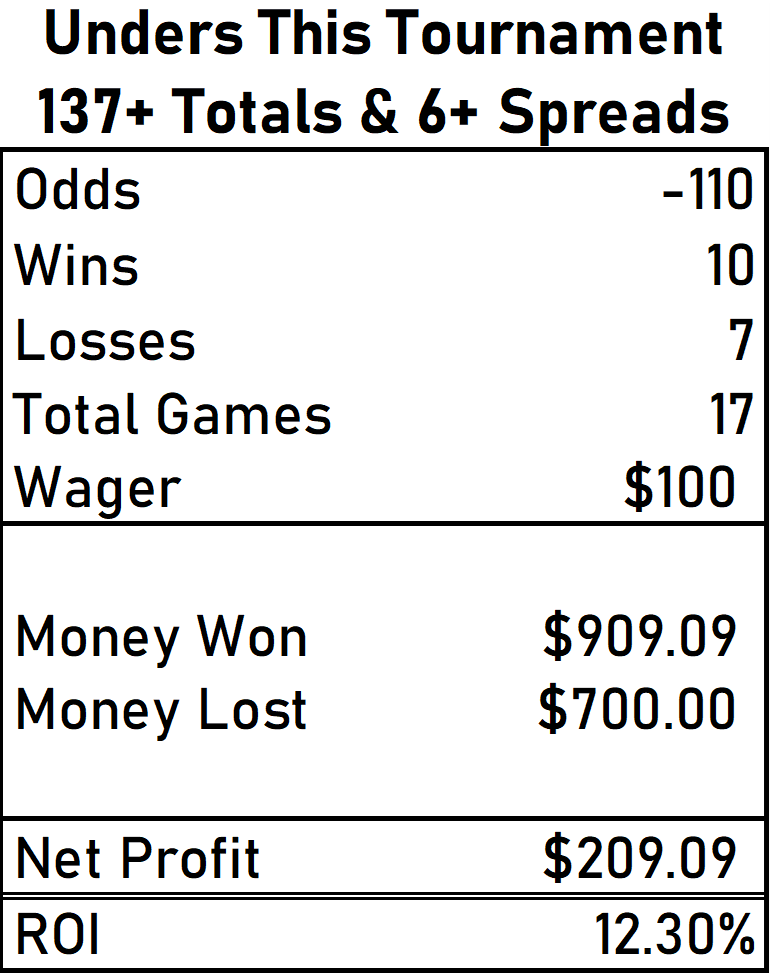 It turns out this somewhat perplexing strategy is holding up just fine this March. In 17 games so far, we have made $209 in profit and have a 12.3% ROI.
Our next opportunity to put this strategy to work is tonight, when the +8.5 'Dawgs from Arkansas take on Goliath from Gonzaga. The total can be found as high as +155 and we are all in for One Unit on this strategy, even if we have no explanation for why it works.
If you want to jump in on this Under trend and ride it while it's hot, Caesars has your best odds.
---
Thank you Jamie from Toronto, thank you @KyleHunterPicks and of course shout-out to Data_Josh for playing with the numbers.
Best of luck with all your picks, parlays, and second chance brackets as the Madness continues with RD3 tonight.
Looking for more action? Check out our guide to March Madness prop bets.
Subscribe to our newsletter and enjoy Malcolm Darnley's cherry-picked betting insights and entertaining analysis.